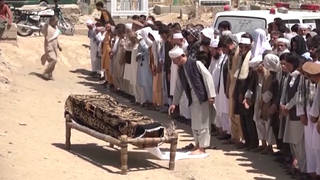 We speak with Haroun Rahimi, assistant professor of law at the American University of Afghanistan, about the Islamic State affiliate that claimed responsibility for this week's devastating suicide bombings at Kabul airport, which killed more than 110 people, including 13 U.S. troops. Islamic State Khorasan, or ISIS-K, is a puritanical group that is "critical of all other sects of Islam," says Rahimi. "Whatever Muslim that thinks differently than them is a major target for them." He says the group's name refers to a region of the former Islamic empire and is an attempt to reestablish "some past lost glory" in a bid to attract disaffected Muslim youth.

This content originally appeared on Democracy Now! and was authored by Democracy Now!.

Print
Share
Comment
Cite
Upload
Translate
APA
Democracy Now! | Peace (2023-03-31T19:05:29+00:00) » Who Is ISIS-K? Anti-Taliban, Anti-U.S. Terror Group Claims Responsibility for Kabul Suicide Bombs. Retrieved from https://www.pea.cx/2021/08/27/who-is-isis-k-anti-taliban-anti-u-s-terror-group-claims-responsibility-for-kabul-suicide-bombs-2/.
MLA
" » Who Is ISIS-K? Anti-Taliban, Anti-U.S. Terror Group Claims Responsibility for Kabul Suicide Bombs." Democracy Now! | Peace - Friday August 27, 2021, https://www.pea.cx/2021/08/27/who-is-isis-k-anti-taliban-anti-u-s-terror-group-claims-responsibility-for-kabul-suicide-bombs-2/
HARVARD
Democracy Now! | Peace Friday August 27, 2021 » Who Is ISIS-K? Anti-Taliban, Anti-U.S. Terror Group Claims Responsibility for Kabul Suicide Bombs., viewed 2023-03-31T19:05:29+00:00,<https://www.pea.cx/2021/08/27/who-is-isis-k-anti-taliban-anti-u-s-terror-group-claims-responsibility-for-kabul-suicide-bombs-2/>
VANCOUVER
Democracy Now! | Peace - » Who Is ISIS-K? Anti-Taliban, Anti-U.S. Terror Group Claims Responsibility for Kabul Suicide Bombs. [Internet]. [Accessed 2023-03-31T19:05:29+00:00]. Available from: https://www.pea.cx/2021/08/27/who-is-isis-k-anti-taliban-anti-u-s-terror-group-claims-responsibility-for-kabul-suicide-bombs-2/
CHICAGO
" » Who Is ISIS-K? Anti-Taliban, Anti-U.S. Terror Group Claims Responsibility for Kabul Suicide Bombs." Democracy Now! | Peace - Accessed 2023-03-31T19:05:29+00:00. https://www.pea.cx/2021/08/27/who-is-isis-k-anti-taliban-anti-u-s-terror-group-claims-responsibility-for-kabul-suicide-bombs-2/
IEEE
" » Who Is ISIS-K? Anti-Taliban, Anti-U.S. Terror Group Claims Responsibility for Kabul Suicide Bombs." Democracy Now! | Peace [Online]. Available: https://www.pea.cx/2021/08/27/who-is-isis-k-anti-taliban-anti-u-s-terror-group-claims-responsibility-for-kabul-suicide-bombs-2/. [Accessed: 2023-03-31T19:05:29+00:00]
rf:citation
» Who Is ISIS-K? Anti-Taliban, Anti-U.S. Terror Group Claims Responsibility for Kabul Suicide Bombs | Democracy Now! | Peace | https://www.pea.cx/2021/08/27/who-is-isis-k-anti-taliban-anti-u-s-terror-group-claims-responsibility-for-kabul-suicide-bombs-2/ | 2023-03-31T19:05:29+00:00
https://github.com/addpipe/simple-recorderjs-demo