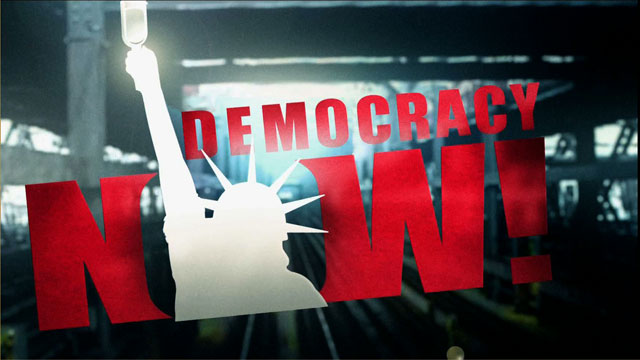 In New York, a third woman has accused Governor Andrew Cuomo of sexual harassment. Anna Ruch detailed her experience in an interview with The New York Times, saying she met Cuomo at her friends' wedding reception in 2019, where he reportedly grabbed her lower back, put his hands on her cheeks and loudly asked if he could kiss her. "I was so confused and shocked and embarrassed," Ruch told The New York Times. Her story was corroborated by a friend who witnessed the interaction, as well as photographs from the event.
Cuomo briefly addressed allegations made by two former aides in a statement Sunday night, saying his actions had been "misinterpreted."
On Monday, Democratic Congressmember Kathleen Rice of New York tweeted, "The time has come. The Governor must resign."
Print
Share
Comment
Cite
Upload
Translate
APA
Democracy Now! | Peace (2022-05-24T06:00:01+00:00) » Headlines for March 2, 2021. Retrieved from https://www.pea.cx/2021/03/02/headlines-for-march-2-2021-2/.
MLA
" » Headlines for March 2, 2021." Democracy Now! | Peace - Tuesday March 2, 2021, https://www.pea.cx/2021/03/02/headlines-for-march-2-2021-2/
HARVARD
Democracy Now! | Peace Tuesday March 2, 2021 » Headlines for March 2, 2021., viewed 2022-05-24T06:00:01+00:00,<https://www.pea.cx/2021/03/02/headlines-for-march-2-2021-2/>
VANCOUVER
Democracy Now! | Peace - » Headlines for March 2, 2021. [Internet]. [Accessed 2022-05-24T06:00:01+00:00]. Available from: https://www.pea.cx/2021/03/02/headlines-for-march-2-2021-2/
CHICAGO
" » Headlines for March 2, 2021." Democracy Now! | Peace - Accessed 2022-05-24T06:00:01+00:00. https://www.pea.cx/2021/03/02/headlines-for-march-2-2021-2/
IEEE
" » Headlines for March 2, 2021." Democracy Now! | Peace [Online]. Available: https://www.pea.cx/2021/03/02/headlines-for-march-2-2021-2/. [Accessed: 2022-05-24T06:00:01+00:00]
rf:citation
» Headlines for March 2, 2021 | Democracy Now! | Peace | https://www.pea.cx/2021/03/02/headlines-for-march-2-2021-2/ | 2022-05-24T06:00:01+00:00
https://github.com/addpipe/simple-recorderjs-demo