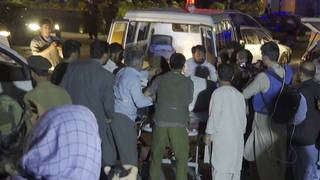 We go to Kabul, Afghanistan, for an update as the death toll from twin suicide bomb attack outside the airport has topped 110 people, including 13 U.S. troops. The suicide bombers struck near the crowded gates of the airport where thousands of Afghans had gathered in an attempt to flee the country before the withdrawal of U.S. troops on August 31. Afghan journalist Ali Latifi, a Kabul-based correspondent for Al Jazeera English, spoke with witnesses who described a scene of shock and panic following the blasts. "When the bomb went off, it was literally, they said, people walking on top of one another," says Latifi. "Basically, it was, as they described it, mayhem."

This content originally appeared on Democracy Now! and was authored by Democracy Now!.

Print
Share
Comment
Cite
Upload
Translate
APA
Democracy Now! | Peace (2023-03-31T18:26:31+00:00) » "Mayhem": Chaotic Scenes at Kabul Airport as Suicide Bombs Kill 110+ Afghans & U.S. Troops. Retrieved from https://www.pea.cx/2021/08/27/mayhem-chaotic-scenes-at-kabul-airport-as-suicide-bombs-kill-110-afghans-u-s-troops-2/.
MLA
" » "Mayhem": Chaotic Scenes at Kabul Airport as Suicide Bombs Kill 110+ Afghans & U.S. Troops." Democracy Now! | Peace - Friday August 27, 2021, https://www.pea.cx/2021/08/27/mayhem-chaotic-scenes-at-kabul-airport-as-suicide-bombs-kill-110-afghans-u-s-troops-2/
HARVARD
Democracy Now! | Peace Friday August 27, 2021 » "Mayhem": Chaotic Scenes at Kabul Airport as Suicide Bombs Kill 110+ Afghans & U.S. Troops., viewed 2023-03-31T18:26:31+00:00,<https://www.pea.cx/2021/08/27/mayhem-chaotic-scenes-at-kabul-airport-as-suicide-bombs-kill-110-afghans-u-s-troops-2/>
VANCOUVER
Democracy Now! | Peace - » "Mayhem": Chaotic Scenes at Kabul Airport as Suicide Bombs Kill 110+ Afghans & U.S. Troops. [Internet]. [Accessed 2023-03-31T18:26:31+00:00]. Available from: https://www.pea.cx/2021/08/27/mayhem-chaotic-scenes-at-kabul-airport-as-suicide-bombs-kill-110-afghans-u-s-troops-2/
CHICAGO
" » "Mayhem": Chaotic Scenes at Kabul Airport as Suicide Bombs Kill 110+ Afghans & U.S. Troops." Democracy Now! | Peace - Accessed 2023-03-31T18:26:31+00:00. https://www.pea.cx/2021/08/27/mayhem-chaotic-scenes-at-kabul-airport-as-suicide-bombs-kill-110-afghans-u-s-troops-2/
IEEE
" » "Mayhem": Chaotic Scenes at Kabul Airport as Suicide Bombs Kill 110+ Afghans & U.S. Troops." Democracy Now! | Peace [Online]. Available: https://www.pea.cx/2021/08/27/mayhem-chaotic-scenes-at-kabul-airport-as-suicide-bombs-kill-110-afghans-u-s-troops-2/. [Accessed: 2023-03-31T18:26:31+00:00]
rf:citation
» "Mayhem": Chaotic Scenes at Kabul Airport as Suicide Bombs Kill 110+ Afghans & U.S. Troops | Democracy Now! | Peace | https://www.pea.cx/2021/08/27/mayhem-chaotic-scenes-at-kabul-airport-as-suicide-bombs-kill-110-afghans-u-s-troops-2/ | 2023-03-31T18:26:31+00:00
https://github.com/addpipe/simple-recorderjs-demo